our creations
For true connoisseurs... discover the creative process from idea to design, 100% made by MDC
triumph boneville
When the sun rises on a typical morning in our workshop, the smell of engine oil and metal fills the air...
Harley davidson 1200rs
The roar of a Harley-Davidson motorcycle is music to the ears of any motorcycle enthusiast and our workshop is proud to present...
Honda cx 500
Vintage motorbikes have something undeniably special....
Triumph boneville
From rust to shine: How we transformed a vintage Triumph Bonneville into a show bike"
Triumph Speed triple
A story of transformation: The journey of a vintage Triumph Speed ​​Triple to a show bike"
Harley Davidson - MILWUAKEE SPRINGER
The first step to create this unique motorcycle was....
Harley Davidson - California Dreamin'
Are you ready to discover an epic transformation?
Harley Davidson - Mayman 03
If you are a Harley Davidson enthusiast, you can't miss our latest modification to this 2016 Forty Eight
CHICANO BAGGER - TEQUILA SUNRISE
His name? "Tequila Sunrise".....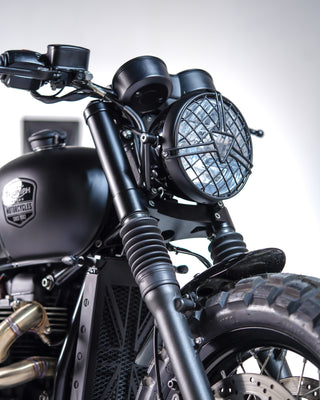 TRIUMPH BONNEVILLE T120 "MAYMAN 02"
Welcome to our blog dedicated to motorcycle enthusiasts!
HARLEY BLACK
From the front fairing to the handlebars, from the air filter to the license plate holder and the footpegs...
AVP'S CLASSIC BONNIE T120
Customizing this Triumph Bonneville was a unique experience
Best seller
Take a look at the best-selling products
Follow us!
Follow us on our social channels so you don't miss any exclusives