Dream Factory
Customize your two-wheeled dream with us
100% leather bags
Our quick release bags will give a unique touch to your motorcycle
There's something undeniably special about vintage motorcycles. The sleek lines, classic silhouettes and raw power they possess make them a thing of beauty. ...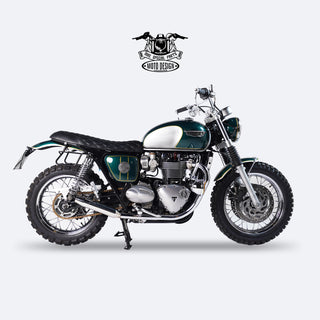 Welcome to our blog dedicated to motorcycle lovers! Today we will tell you the story of a Triumph Bonneville that has undergone a series of custom modifications that...
Our services
Our staff will be happy to answer your requests.
Shipping 24/48h
We ship within 24/48 hours nationally and internationally,
you will find detailed information on each product
Assistance
For info on products and shipping
contact us by email or telephone
Whatsapp
Contact us on Whatsapp, we will be happy to answer you immediately!
Secure payments
We accept all payment methods, bank transfers, payments via credit cards, PayPal and cash on delivery
custom design motorcycle
We are a workshop specialized in customizations, airbrushing,
creation and production of accessories for custom motorcycles...
100% artisanal
our products are designed and created by hand
Discover our creative process
Details make the difference
Book a consultation to customize your motorbike
"The perfect place for every Custom, great competence and availability"
- Andrew
"A great company at the forefront of motorcycle modernization and design."
– Umberto
"The art of doing, and doing your job well. Congratulations for the bikes you build."
– Linen
@motodesigncustoms
Follow us on our social networks to discover all the latest news and become part of our big family.